/ Research
Foundation Report 2019: Latest figures on the Swiss foundation sector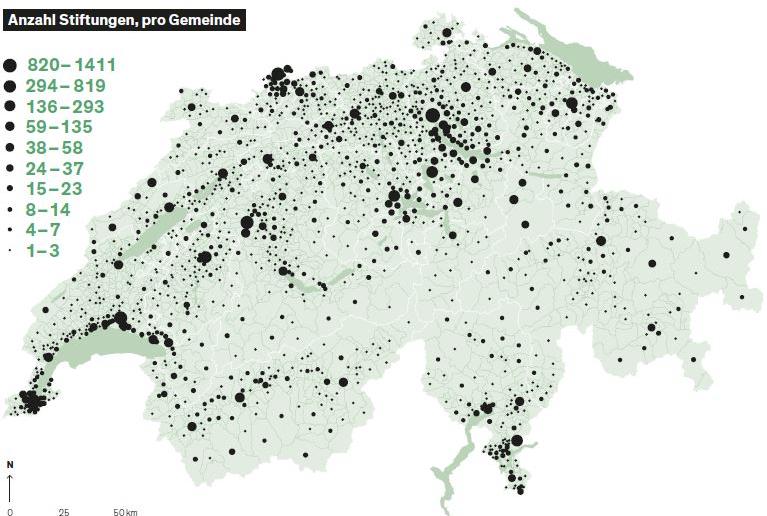 Although growth in the Swiss foundation sector slowed in 2018, Switzerland, with its 13,169 foundations, still holds a leading position internationally. The view on the mandates in foundation boards is ambivalent: While there is little accumulation of mandates, the diversity is still relatively low.
This year, the Swiss Foundation Report celebrates its anniversary: for the tenth time, the Center for Philanthropy Studies (CEPS) of the University of Basel, SwissFoundations and the «Zentrum für Stiftungsrecht» of the University of Zurich present current figures and developments concerning the Swiss foundation sector.
Lower growth – high priority
This year's report serves to show once more that foundations enjoy a high status in Switzerland. Although the growth of foundations slowed in 2018, the Swiss foundation sector continues to occupy a leading position in international comparison. Difficulties – especially for smaller foundations – can be found in low financial income, difficulties with succession and increasing regulation.
Ambivalent view of foundation board mandates
For the first time, CEPS figures on foundation board mandates are included in the current issue of the Foundation Report. On the positive side, these show a low accumulation of mandates in the Swiss foundation sector, in which a total of 62,102 foundation board members were active at the end of 2018. A less favorable picture emerges with regard to diversity: the proportion of women on foundation boards is only around 28% and almost a third of the boards are made up entirely of men.
Good credentials, but...
The Global Philanthropy Environment Index, published for the first time in 2018, gives Switzerland a positive assessment of the political, regulatory and social environment for philanthropy. It also shows, however, that jurisprudence and politics are presenting the foundation sector with increasing challenges. For example, there is a tendency to make supervisory complaints about foundations more difficult. Stricter regulations in the financial market sector are also having an impact on foundations. 
A look beyond the borders and into the future
The Foundation Report 2019 also takes a look beyond Switzerland and the past year. In various articles, authors deal with various topics that will be of great importance to the foundation sector in the future, such as digitization, globalization and the role of foundations in media diversity.
Read Swiss Foundation Report 2019 in German