/ Research
Swiss foundation landscape: importance of perpetuity in decline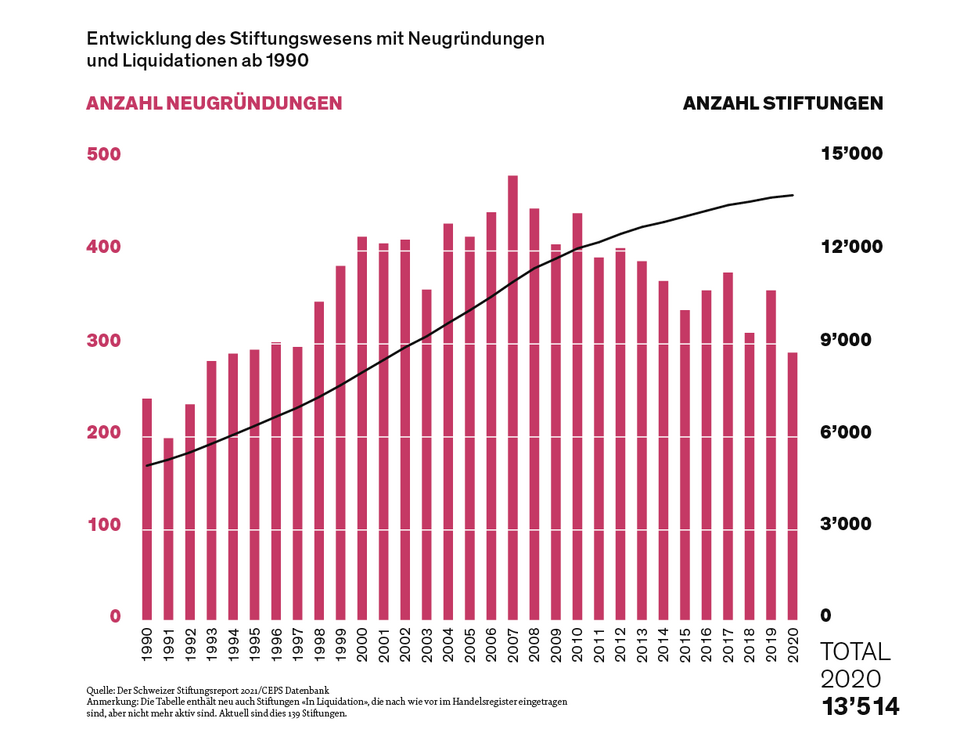 On January 28, 2021, the CEPS, SwissFoundations and the Center for Foundation Law at the University of Zurich presented the first figures of the Foundation Report 2021.
The evaluations show that the Swiss foundation sector continues to grow, albeit at a slower pace: a trend that has already become apparent in recent years. In 2020, 284 new foundations came into existence compared with 210 liquidations. The slower growth is due in particular to the short lifespan of relatively young foundations. Of the 3,673 foundations established since 2010 (27.5% of all active charitable foundations), more than half (52.2%) have already been liquidated.
In addition to external influences driving the liquidation of foundations – in particular the low-interest environment – the new understanding of the founder's role is also a driving force: instead of establishing a foundation for perpetuity, many founders want to realize their commitment during their lifetime and thus from the outset plan to establish a foundation that will use up its assets within a few years.
As in previous years, the canton of Geneva had the highest growth in charitable foundations in 2020 with 46 new foundations established. The highest number of foundations per 10,000 inhabitants can again be attributed to the canton of Basel-Stadt with 45.3 foundations. The Swiss average remains unchanged at 15.6 foundations per 10,000 inhabitants – a top position in global terms.
The Swiss Foundation Report 2021 will be published on May 18, 2021 in German and French.